Kitchen Remodeling in Pasadena Area
Start-to-finish design & kitchen remodeling services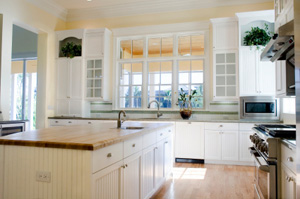 Beauty & function. When remodeling a kitchen, it's important to include features that will give you the look you want while keeping functionality in mind.
Northern Craft provides complete kitchen remodeling services, from the initial design to the finishing touches.
The kitchen is the heart of your home. By remodeling your kitchen, you will add value to your home and create a welcoming and functional space. Our design experts will make sure your kitchen includes all the features you want, and our experienced installers will handle all the details.
Contact us today to begin designing your dream kitchen! We provide no-obligation kitchen design consultations in Pasadena, Glen Burnie, Annapolis and nearby. Call us or click below to request your in-home consultation and estimate.
What to expect from our kitchen remodeling process
Your beautiful and functional new kitchen starts with our in-home design consultation. During your visit, we will discuss what you like and don't like about your kitchen as well as what you want to change. We will help you decide which features are most important to you and explore all the different options for cabinets, countertops, storage solutions, and more. We will then provide you with a personalized 3D design plan and estimate, so you will know the proposed cost of your project upfront.
No two projects are the same, so pricing for a kitchen remodeling project is customized to your needs based on the physical space and the materials/products you choose. Here are some examples of ways you can upgrade your kitchen:
Replacement: During a replacement, we remove existing materials, appliances, and cabinets and upgrade them. Homeowners who have a larger budget may choose to customize every aspect of their kitchen space, including the overall layout, counters, cabinetry, appliances, lighting, and fixtures.
Refresh or renovation: A renovation may include painting or staining your existing cabinets. This option is perfect for customers who have a conservative budget or existing quality cabinets.
Reface or upgrade: Upgrading your kitchen may simply include refacing cabinetry doors, facades, counters, or flooring. This is perfect for homeowners who want a kitchen upgrade with minimal interruption to their family's daily lives.
Transform your kitchen with the right upgrades
Remodeling your kitchen doesn't have to be overwhelming. We can turn your dated kitchen into a modern, functional space with a few upgrades. Our remodeling experts will work with you to discuss your wishlist and design a plan that maximizes your space while creating a kitchen that you'll love spending time in.
Every home improvement or remodeling project is unique. Whether you need to remodel your kitchen, have an insurance claim, or are interested in complete kitchen design services, your remodeling project is no exception. We offer: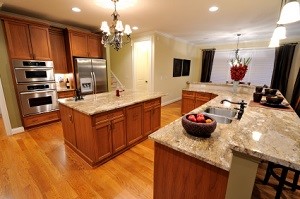 Custom solutions. We will help you find the right cabinets, counters, and finishing details for your design and needs.
Cabinets
Your kitchen cabinets are the first feature of your kitchen that guests will notice. We work only with quality, brand name manufacturers to make sure you get the very best in your kitchen. There are several different options for upgrading your cabinets
Custom cabinets and cabinet replacements are the ultimate solutions for getting the kitchen you've always dreamed of.
Countertops
Your countertop is another major focal point of your kitchen. Replacing your outdated countertop can enhance the overall beauty of the space. There are several surface options available for every style and budget. We can help you find the perfect countertop for your kitchen and provide professional installation.
Storage and organization
Inadequate kitchen storage and poor organization are two common complaints of homeowners. Let us solve that for you by maximizing the space you already have. We can add pullout trays to existing base cabinets and install shelves. If you choose to install new cabinets, we'll help you incorporate storage features to make sure you're getting the best function out of your beautiful new kitchen.
Complete kitchen remodeling services
New kitchen islands
Lighting fixtures
Laminate, wood, stone, & ceramic flooring
Customer selected brands & fixtures
Energy-efficient appliance upgrades
Lighting & electrical work
Room expansions & drywall work
Free in-home consultation & 3D design services
Permits & design planning
And more!
Northern Craft can give your kitchen a complete facelift
As the local full-service home remodelers, Northern Craft are the experts you need for all your kitchen remodeling services. We will be with you every step of the way from design to completion, ensuring that you get the kitchen of your dreams.
If you're ready to upgrade your kitchen, call us today or contact us online for a free estimate today. We offer all our remodeling services in Annapolis, Glen Burnie, Pasadena, Odenton, Severn, Laurel, Severna Park, Arnold, Edgewater, Crofton, and nearby areas in Maryland.
Looking for a price? Get a no cost, no obligation free estimate.