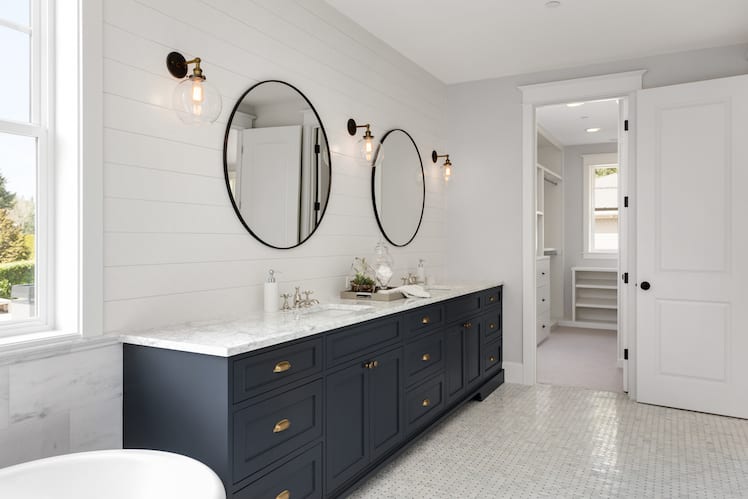 Remodeling or designing your dream master bathroom can be both exciting and challenging. When you first start this journey, it's important to outline your wants, needs, and budget with an experienced contractor in order to achieve the bathroom of your dreams in the most effective way.
By hiring an experienced contractor, you are able to design a remodel that will fit your budget and needs while planning out a timeline that works for you and your home. Making calculated decisions with a trusted professional will ensure that everything will work together and will help you plan the perfect master bathroom renovation.
The first thing to consider is what specific needs you have. Decide how the bathroom is used the most, by who, and what vital pieces and features the space should have. Commonly, a master bath is shared by two people for everyday use. Ensure you are making your bathroom a co-use space by adding two sinks and plenty of circulation around the room. In addition to a double sink, you want to consider storage and countertop space. This is the time to customize any cabinetry or storage pieces to your exact needs.
After defining your needs for the space, it is time to decide on your wants. This is where your design and floor-plan come into play. Would you like a large shower or stand-alone tub? What about heated flooring? Any amenities, necessities, and luxuries you would like included should be chosen well before your renovation begins.
The next step in the process will be deciding on the aesthetic of your bathroom. Do you have a specific color theme, sense of serenity, or even photos of bathrooms you have found online that you like? Compile them and decide which aspects you want to include and which aspects you would rather leave behind. Prioritizing this list will aid in the next step of the process.
Finally, its time to set a realistic budget and stick to it. Some individuals love the look of a marble shower, but not the cost. This is where working with a professional contractor will pay off as they can help suggest alternatives and provide insight into where to splurge and where to save money. Sometimes there are materials on the market most individuals are not even yet aware of that are more cost-efficient and eco-friendly.
By undergoing a master bathroom renovation, you can add function and value to your home. Take the time to properly plan and budget for your project to ensure it can offer years of use. By working with a trusted contractor, such as Northern Craft Construction, you can expect all projects to be completed accurately, timely, and beautifully. Call today to take the first steps of your master bath renovation.