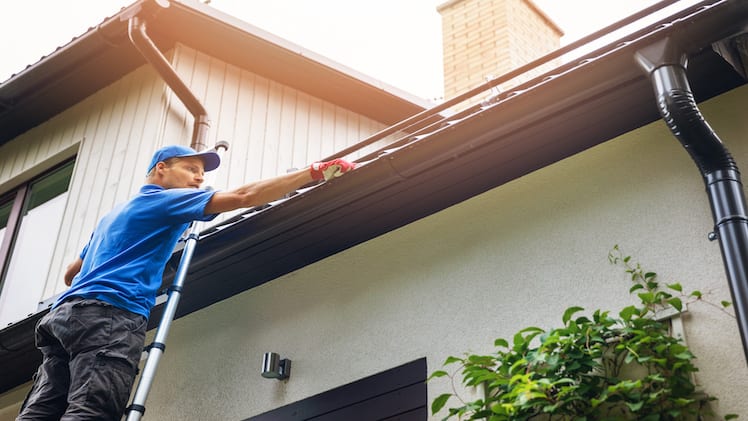 Fall is the perfect time to take care of home repair projects before colder, and shorter, days make outdoor work too difficult/not feasible.
Follow the checklist below to make sure your home is safe, prepared, and comfortable throughout the colder months to come.
Check for damaged window or door frames that could cause drafts into your home. This will help to keep your home at the temperature you want, keep animals out, and help you feel safe and secure inside of your home.
Ensure batteries are working in your smoke detectors, carbon monoxide devices, and any other battery-operated safety devices.
Inspect your roof, siding, and foundation for any damage. Heavy snow can cause an old or damaged roof to collapse, and rodents can get into your home looking for warmth through small holes in the foundation. Be sure to schedule a repair before the winter weather hits!
Hire a professional to check your heating system to ensure optimal performance for colder months and discover minor problems before they turn into major repairs that could be costly.
Prune back shrubs and trees after the leaves change to ensure they grow back properly in the following years.
Take out your summer window/door screens, clean them, and store them for the spring. If anything is rusted, damaged, or unusable be sure to start looking into replacements for next year.
Check gutters and downspouts to ensure all debris are cleared and that they are secured properly.
Fix any cracks in the driveway or concrete sidewalks. Cold weather can make the cracks expand and it is much more difficult to fix these issues in the freezing temperatures.
Clean out your fireplace and get it ready for the colder months! Check to make sure you have a chimney cap to prevent critters from getting in.
Apply weather-stripping where joints meet to keep your heating and electricity bills down and winter weather out. This is usually done around windows, doors, and any other openings in your home.
To ensure that your home is ready for fall and winter, hire a team of professionals to help finish any projects or fix any problems you come across. Call Northern Craft Construction to get your home ready for the upcoming season.