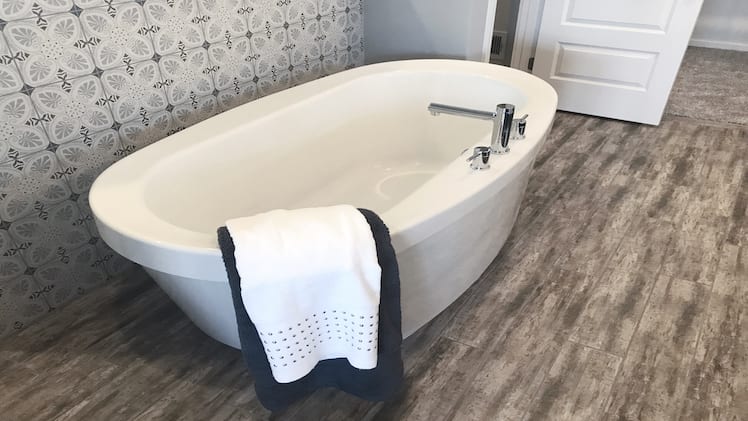 Fall is the perfect season to renovate your bathrooms so you can enjoy them while more time is spent inside during the cold winter months. Here are a few of our favorite bathroom trends and upgrades to include in your next renovation.
Bold Wallpaper
Brands are now creating wallpaper that can be easily peeled and placed to add a fresh and stylish look to your space without the hassle of paint. Try decorating one-wall, or the upper half of wainscoting, with a fun print to add some color to your small space.
Stand-Alone Bathtubs
Stand-alone bathtubs, whether they are claw-foot or not, create dramatic focal points for your bathroom. They also provide more options for the layout of your bathroom since it doesn't have to be attached to a wall (compared to a built-in tub).
Floor-to-Ceiling Glass (Wet Room)
By sectioning off the bathtub and shower behind a clean, floor-to-ceiling glass wall, it allows the bathroom to look taller and more open. Try a shower without a dam to allow an even more seamless, simplistic look from the sinks to the shower.
Floor Heating
Nothing is worse than stepping on freezing cold tile in the winter. Consider upgrading to a heated tile floor to warm your feet. No matter the type of floor; concrete, tile, etc.- heated floors are a great addition to any bathroom.
Tile Accent Wall
Although tile can be expensive, consider an accent wall or strip with bolder tiles in the shower or bath area to save money. The accent wall detail will create a focal point in the room and adds an expensive-looking design element to space.
Northern Craft provides free appointments weekly to help hash out the details of your plan. We are dedicated to helping committed owners throughout the entire process in order to attain their goals for their projects.