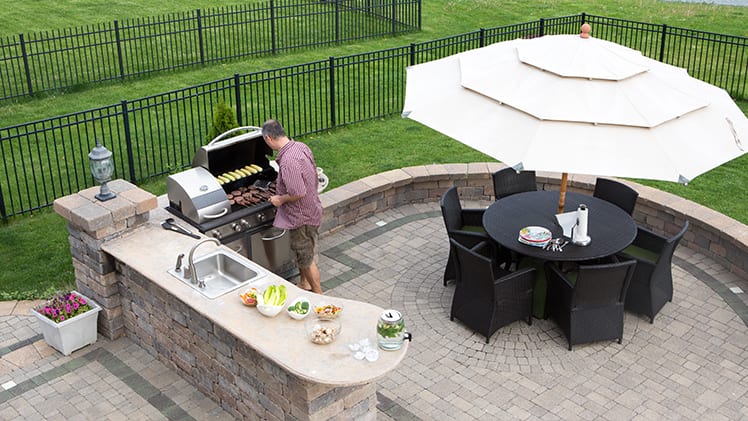 With warm weather quickly approaching, it is time to prepare your outdoor space. There are many options with various price points that can allow anyone to get outdoors and enjoy time with friends and family.
1. Decks and Patios. One of the most popular options to improve your outdoor space is a new patio or deck. This option adds value, character, and extended living space to your home. This area can act as an outdoor playroom, kitchen, or dining room to gather with loved ones. Whether you are replacing an already existing deck or patio, adding to it, or creating a new space altogether, it is important to use a reliable construction company. With the right crew, you can expect this new addition to last up to 20 years with your home or longer depending on the materials you choose.
2. Outdoor walkways. By creating beautiful outdoor walkways, you are able to add curb appeal and easy access to your house for you and your guests. Connecting your front porch to your backyard or driveway can make your home flow much easier and invite guests to use all of the space you have to offer. In addition, having a walkway can save some of your indoor areas. These new paths will help to leave mud and dirt outdoors where it belongs.
3. Outdoor Kitchens. If you are looking for an option to add functionality as well as a new entertaining space, this is the way to go. You can mimic the indoor luxuries of a full kitchen while also enjoying the benefits of being outside. This can allow you to accommodate larger groups and enjoy the other benefits of your outdoor space. Another great part of this option is that outdoor kitchens are extremely customizable. While working with your contractor, you can discuss the ways you will use the kitchen and the frequency you will be using it to see what the best option is that will fit into your budget.
Whether you are buying, selling, or just want to upgrade your home, these options can allow for a more usable outdoor space while also adding value to your home. Building and remodeling from the ground up involves a lot of tough decisions - none more important than choosing a good Anne Arundel County based home remodeling team.
If you're interested in scheduling an in-home consultation with Northern Craft Construction, call today at 1-410-437-9516.